Ten questions to ask yourself before buying a pool
Buying a pool is not a decision to be taken lightly. It is an important investment and a long-term project. It is therefore preferable to take your time and to think about the project carefully before starting. What are the questions to ask yourself before buying a pool?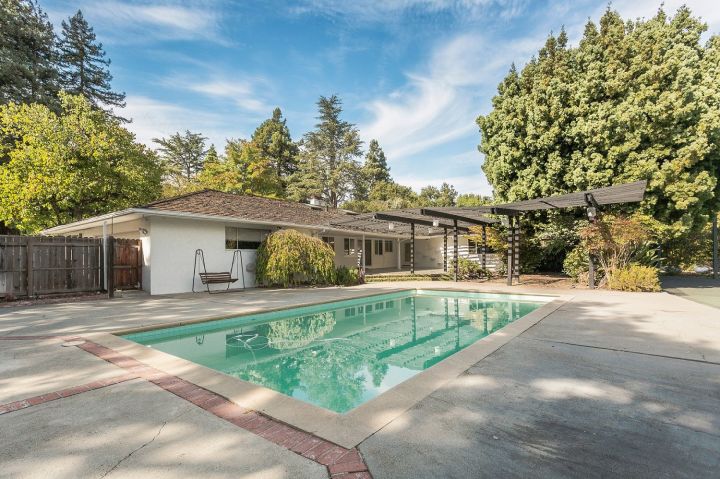 Ten questions to ask yourself before buying a pool © Max Yu - shutterstock.com
1. Is my land in a building or protected zone?
Before starting your pool project, first check with the city town hall to find out if your land is not in a protected zone. It would be a shame to buy a swimming pool and only find out afterwards that you do not have the authorizations to carry out the work.
2. Is the land suitable for the construction of a pool?
Then ask yourself if your land is suitable for a swimming pool. For an above-ground pool there is no problem. However, in-ground and semi-inground pools require a special soil in order to have good stability and not to deform over time.
Have a professional accompany you to make sure you don't make a mistake. Once you know that it is possible to build and that the land is suitable, you can file a declaration of work or apply for a building permit depending on the size of your pool. The waiting period is normally one or two months depending on the time of year.
3. Which location to choose for the pool?
Think carefully about the location of your pool to make the most of it during the sunny days. Choose a location that is sunny and sheltered from the wind, but still in the shade for a few hours a day. Choose a spot away from trees to prevent leaves from falling in and to keep the water clean. Finally, be careful not to build your pool too close to your neighbors (check the urban planning rules to be respected).
4. Which pool size to choose?
The size of a swimming pool is chosen according to the size of your land, but also according to the use you want to make of it. Think that you will need space around your pool to create a beach, install the filtration pump and possibly a pool house or a security fence. Mini pools are ideal for cooling off in the summer and as an ornamental pool. By installing a counter-current swimming system, you can even swim in them. Larger pools are designed to accommodate several people. It is also possible to choose a custom-made pool, but the price will be more expensive.
5. Which pool shape to choose?
The shape of a swimming pool depends again on the use you will make of it, the time you wish to devote to its maintenance and your desires in terms of aesthetics. The rectangular pool is the most classic of all and is perfect for swimming. A curvy pool fits better into the landscape and the octagonal pool will be more difficult to maintain (lots of corners). It's up to you to weigh the pros and cons.
6. What type of pool to choose?
The next question you have to ask yourself is what type of pool. There are in-ground, semi-inground and above-ground pools. Some models are offered in kit form, in standard or custom sizes. In-ground or semi-inground pools take longer to install because they require work to be done. Above-ground pools are easier to install and do not require administrative procedures. However, they are less solid and have a shorter lifespan.
7. Which swimming pool operator to choose?
To buy a swimming pool, it is preferable to go through a pool professional (pool specialist or pool builder) to benefit from his know-how and experience. He will also offer you an after-sales service and a follow-up of your project. Take your time to choose and ask for several quotes. Beware of prices that are too low and sometimes hide unpleasant surprises!
8. Who will install the pool?
For the installation of your pool, you can choose to go through a pool specialist or do it yourself. It all depends on the type of pool you choose. An above-ground pool is easier to erect because there is no need to dig. Whereas for an in-ground or semi-inground pool, only skilled handymen or masons are able to carry out the project. The ideal is to go through a pool specialist for any pool chosen, because it's an important investment, it is preferable that the installation be carried out correctly.
9. What accessories are necessary for the maintenance and proper functioning of my pool?
Before buying, be aware that you must include in your budget the purchase of accessories to filter the water, to clean the pool, to access the pool and to secure the area in certain cases.
10. How to arrange the pool surroundings?
Finally, think about the layout of the pool surroundings. Are you going to install a beach to bask in the sun, a pool house or a barbecue area? Most pool designers work with landscapers who can advise you on how to improve the comfort of your swimming area.
Source: https://www.guide-piscine.fr/